Organizations are continually evolving in today's digital world to provide their employees with efficient and user friendly platforms. The ICTS My View Portal is one such portal. But what exactly is it, and how does it help ICTS UK Ltd employees? Let's get started.
What exactly is ICTS My View Portal?
The ICTS My View Portal, which can be found at saas.zellis.com/icts/dashboard, is an online platform built specifically for ICTS (UK) workers. They can use this portal to:
View, save, and print their pay stubs, P60s, and P11Ds.
Personal information such as address, emergency contact, and bank account information should be updated.
As a result, it provides a one stop shop for all payroll related needs, guaranteeing that employees have 24-hour access to their pay records and personal information.
Why is an Online Payroll Portal Required?
One might question why ICTS felt compelled to develop this page. The answer is found in the sheer quantity of employees employed by ICTS companies throughout Europe and the United Kingdom. Managing payroll and personal information for such a large workforce would be a Herculean undertaking. As a result, the ICTS My View Portal was established to streamline the procedure and verify data correctness.
How to Get Your Payslips: A Step by Step Guide
Here's a quick tip for those asking how to view their paystubs: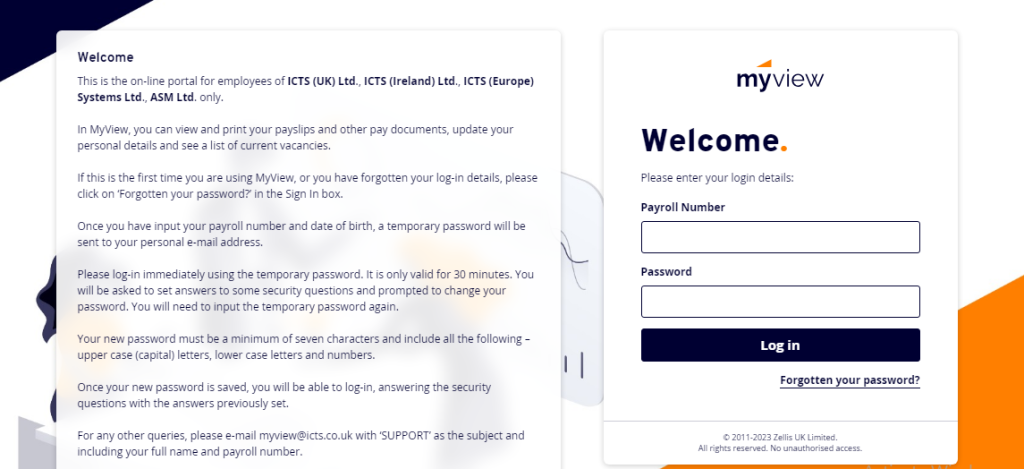 Go to the ICTS Myview payroll portal.
A sign in form will be presented to you.
Enter your payroll number and password with caution.
Tap the green "Sign In" button.
If your credentials are valid, you will be taken to your profile dashboard. Navigate to the "view pay documents" section for pay related information.
However, remember to keep your login information secure. Incorrect information will prevent you from obtaining your payslip. To protect security, always log out after use.
Have you forgotten your password? Here's How You Can Reset It
But what if you misplace your password? Don't worry, resetting it is simple: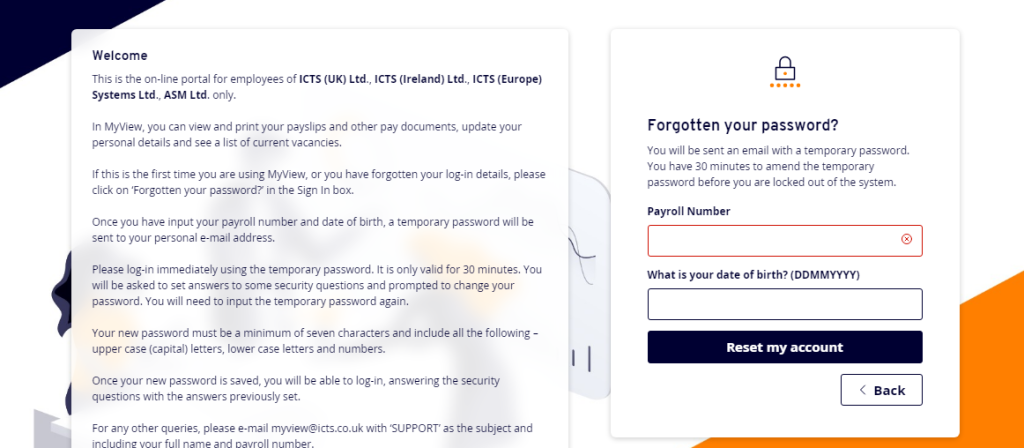 Visit the official website and select "forgotten your password."
Enter your payroll number and birthdate, then click "reset my account."
If your information matches the system's records, you'll be emailed a temporary password (which will expire in 30 minutes).
Log in with this temporary password, verify your information, and create a new password.
Need Help? Reach Out!
For any queries, ICTS UK employees can email myview@icts.co.uk or call 020 7874 7576 between 9 a.m. to 5 p.m.
Finally
ICTS My View Portal demonstrates ICTS dedication to employee convenience and data accuracy. It's a fantastic resource that every ICTS employee should take advantage of.